About Philippa Sinclair




Spring Fling 2022
Please visit my Instagram page for more info on my working practice.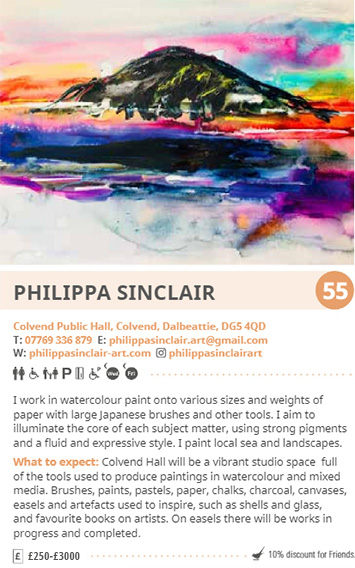 Philippa's vision is to capture the essence of a scene and interpret this in a radical and innovative way through the use of colour and line. Her fresh, vibrant and inspiring interpretations include:
Africa
Flora & Fauna
Galloway
Italy
Landscapes
Seascapes
Still Life
Wildlife
Venice
Key influences for Philippa have been the Fauvists such as Matisse, Derain and Raoul Dufy and John Piper whose work is, in Philippa's view, exceptionally creative. Since becoming a professional painter, she has moved into exciting experimental forms of art work.
"Originality in creativity are preoccupations for all artists. In my exhibitions I hope to convey both as I revisit traditional genres such as still life, landscapes,and seascapes..And as the title of the exhibition suggests the sensational effects of colour and light on the subject matter. In my flower paintings a cornucopia of spring and summer flowering I aim to capture the essential forms and shapes all empowered by intense pigments.The plant stands naked on the support without an eclipse of supporting cast of background or foreground. In my portrayal of our jewels such as Hestan, Screel I have conjured hopefully their timeless majesty with strong expressive lines and a vivid palette of colours."


Print Originals For Sale
Original paintings are available as a limited edition print. Please contact me for more information.